Thanks for your payment. We appreciate your business.
Thanks for submitting your summer slip application.
Spring Service/Summer Slips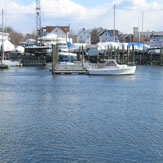 Coastwise Boatworks provides all the service needed to get your boat into the water for the season.

Summer Slips April 15 - November 1st
We have sixty-three slips on the premises. Each slip has water, and 120/v ship to shore power, and a key to a bathroom and shower.
Pricing is as follows:

$110.00 per foot with a 23 foot minimum.
$120.00 per foot over 30 feet.
$125.00 for dockside hook up per season.
Just click the link below to sign up!
Summber Slip Terms & Conditions
Spring Inboard Outboard Service Form
If you have any questions about the Summer Slip Sign Up form please call 203-866-4041.
In addition we have Summer Land Storage April 15 - November 1st
Boats on trailers can be stored in our yard and launched by the owner at the Norwalk ramp which is directly across the road from our facilities. We also store trailers. Call for prices and availability.