Thanks for your payment. We appreciate your business.
Thanks for submitting your winter storage application.
Winter Service/Boat Storage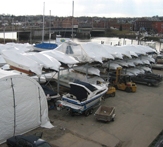 A key component of boat ownership is the question of where to keep your boat when you're not using it. Budget, convenience and availability play into the equation and is a major concern of most boat owners.
Coastwise Boatworks provides all the service needed to prepare your boat for the winter. Boats can be stored on land or in the water. Please click the "Winter Storage Sign Up" link below to sign up for winter storage. For winter service, please call (203) 866 4041 to discuss details.

Storage Pricing is as follows:

Land Storage w/ beam of 9 feet of less: $55.00 per foot.
Land Storage w/ beam greater than 9 feet: $60.00 per foot.
Winter Slip: $35.00 per foot (no bubblers or de-icers are provided).


Winter Storage Terms & Conditions
Inboard Outboard Winter Service Form
Visa or Mastercard is required for winter storage sign up. If you have questions about this form or want to pay by cash or check please come to our ships store to speak in person or call (203) 866 4041. Please call or come in to schedule the delivery of your boat and winter service.